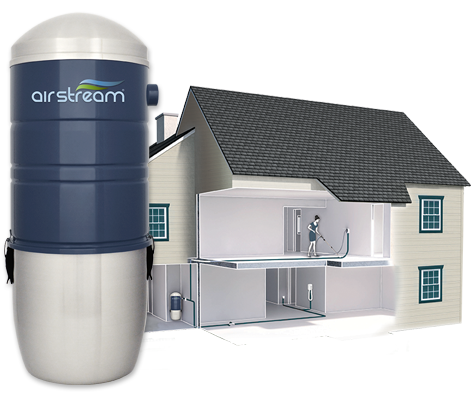 Airstream central vacuum system: How does it work?
Install your unit in an isolated place.
Wall suction inlets are connected to the vacuum by a network of piping hidden in the walls.
Flexible and lightweight hose that connects the accessory of your choice!
Airstream may be installed in both new and existing buildings.
Simplify your household chores with this unique central vacuum system!
About
SIMPLIFIED LIFE, ENHANCED AIR QUALITY!
Airstream
Airstream is recognized for more than 30 years in the central vacuum industry. The brand was completely redefined in 2017 to contribute to the creation of healthy air by eliminating harmful dust from the ambient air that causes allergies. Airstream products are designed to simplify the everyday life.
Discover the benefits of an Airstream central vacuum system.
Simple to use: No more heavy and bulky vacuum cleaner! Simply plug your hose into the wall inlet.
Easy to Install: The installation of a central vacuum can be done easily in a new or existing home. It's easier than you think!
Power: Central vacuums are three to five times more powerful than traditional vacuum cleaners, Airstream central vacuum cleaners provide deep cleaning.
Air Quality: Airstream central vacuums eliminate 100% of dust, pollen and other allergens.
Quiet: By installing in an isolated space such as a garage or basement, Airstream central vacuum systems are quieter than traditional vacuum cleaners.
Added value: Investing in a permanent central vacuum can help increase the value of your home.